Home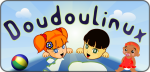 Welcome to the website of the DoudouLinux project team. This site is intended to organize and manage our project. If you want to participate into our project, you are visiting the right place!
---
Important notice¶
The project is no longer active (since a while) and its SVN source code repository at gna.org has unfortunately collapsed in the meantime… We hope to be able to setup a new source code repository in a near future, from local copies of SVN tags. Also, all the quite obsolete data available on this project management portal is provided in the hope it can give ideas to future contributors or other projects with the same philosophy, especially with AI growing too fast all around us :/
---
DoudouLinux is a computer system especially designed for children from 2. DoudouLinux wants to be as simple as a gaming console and speaks the children language natively, without any user's action. It ships with about 50 applications on a single Live CD, covering education, artwork, work and fun! Finally DoudouLinux wants to be very simple and safe for parents too. Discover the difference!
You will find on this website all the relevant information concerning the project life. We have split our project into sub-projects to give our contributors and our visitors a clearer view of what we are doing or will be doing, and for what purpose. You can have a global view of our activities from the Gantt chart and the CD roadmap. If you feel interested in joining our effort, don't hesitate to contact us! Just learn why you should get involved into our project.
Finally please note that our source code is still hosted on the Gna SVN server. You will not find any source code on our project management portal :). If you want to participate into our source code, you have to create an account on Gna.